What is a caterer? It has a straightforward answer; catering is referred to as a chef and his team to help to prepare cooking and serving food, that's true, but there is a lot more in it. Catering services help you with preparation, creation, delivery, and creation of food for your client. If you have ever attended a wedding reception, baby shower, fundraiser, or any other ceremony, you would have experienced the delightfully prepared and presented food by a catering company. Apart from preparing and presenting food, a Business catering company also includes rentals, setups, cleanups, decorations, table setups, music, and lighting.
Planning food for your special occasion and preparing food for huge groups can be a bit confusing, especially when it comes to quantity. While you organize an event, the most essential  part for your guest is the food; providing delicious, finger-licking food is the most delicate  task; you need to provide food that meets your guest's needs, tastes, and desires. At this point, a catering company eases our work.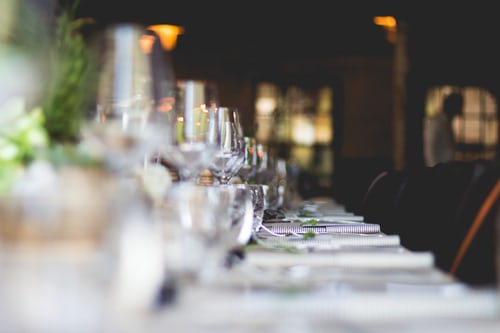 There are mainly three different types of caterers companies:
Mobile catering:  
This catering company comes in a food truck or food cart to deliver meals to your workplace. These catering services are often less expensive and agree on providing a predetermined menu, and they often require less staff.
Hotel/ Restaurant caterers:
These caterers act as an intermediary between the cooking staff and the clients while planning a house event; they provide you services such as menu designing, decoration, table setup, and serving staff as per your requirement.
Full-service catering: 
These are independently owned and operated businesses; these caterers are often hired for business and personal gatherings, birthdays, anniversaries, wedding receptions, and much more. Full catering service includes menu designing and preparation, plate and dinnerware rentals, arranging the event, and cleanup crew staff. These catering services help you design everything from the menu to budget, décor, and cocktail list. They aim to satisfy their clients in every aspect such as sight, sound, touch, taste, and smell.
What Does A Catering Service Do Behind The Scenes
This is one of the essential parts while hosting an event. A catering company helps you suggest a menu and enables you to choose a wide variety of food options within your budget. Caterers help prepare food menus based on the choices and budget of the client that include some popular items. A typical menu consists of appetizers, salads, sandwiches, and other distinctive delicacies; some trademark catering services offer pizzas with the caterer's signature. A perfect menu includes all vegan, non-vegan, gluten-free, and even non-allergic foods for children. Catering companies also have a different list of menus depending upon the occasion; ultimately, a catering company will help you choose the best meal option to meet your guest's needs. 
Event creation:
Some clients require a catering service to deliver food at their venue that has scheduled the chain of events. This requires close coordination between the caterer and the host to determine the right time of food delivery between the events without disrupting the guest and the scheduled programs. This mostly happens during a wedding reception when the catering staff agrees to switch the services between the particular time of events happening.
Preparing food:
When we talk about the catering service and caterers, preparing and serving food is their prime responsibility. The catering company takes care of the complete catering needs, to serve freshly prepared food with mouth-watering delicacies. They create an entire infrastructure for cooking, including utensils, equipment, accessories, and other raw materials required for food preparation. In addition to serving tasty delicacies, a catering company also takes care of proper hygiene, healthy food, and sanitary needs to meet the legal and ethical requirements. They also help estimate the food quantity, take care of portion control, and minimize food waste.
Transporting food items:
Onsite catering is an enormous challenge, as it involves transporting food to the venue to complete your project. Different types of food items require various kinds of storage conditions while transporting. Some foods require onsite cooking. Also, there is food bought in semi-finished states and requires final touch given at the location. Caterers must know proper techniques for packing food items and safe aid transportation of food.
Setup:
Often, it is the responsibility of the caterer to set up the food area by placing tables, chairs, and other furniture for guest seating. If the existing setup does not meet the requirement of a buffet-style dinner, then the caterer will require rearranging the table to meet the needs. It may be necessary even in locations with a prearranged area before the dining staff arrives. They might require changing the sitting according to their requirement of serving.
Maintains hygiene: 
When you hire a reputable catering company, you can trust them for the high quality and hygienic food preparation. Whether your food is prepared onsite or off-site, the quality and hygiene of the food are never sacrificed. And a good catering company knows if the quality of your food is not good, then there are chances that your guest will not enjoy the event.  
Foodservice: 
After setting up the placing and the serving area, the caterer must pay attention to food preparation and serving, which is the primary purpose of hiring a catering service. According to the chosen menu, the food must be ready in all aspects and prepared to serve the guests. The catering staff must ensure going block to block at the time and serve the first guests of the event. Table service is the usual way of serving for a formal event, and the catering staff serves the meal at the table course by course while cleaning the table in between serving courses. At the same time, a buffet-style dinner is served at casual gatherings, which do not require serving food. A catering company takes complete responsibility for serving and addressing your guests for food throughout the event. You do not have to worry about the quantity or refilling of the food. 
Clean up:
After serving food and entertaining guests, it's time to wind up by ensuring nothing more to ask for. It's high time for the catering team to clean up the dining area. The cleaning part consists of removing plates, glasses, silverware, and liners from the tables and cleaning garbage by collecting the trash bags of disposal. It is the last lap packing the leftover food and serving ingredients; the caterer's responsibilities end with the closure of the project.  
Conclusion
 A catering company handles everything from buying groceries to selecting the menu to serve and clean. They help you organize your function in a hustle-free manner, whether you have a small formal gathering or a big celebration. A catering company helps you meet all your requirements regarding food, setup, serving, and cleaning.